Eltex's motors repair centre is at your disposition for the verify and the reparation of dc drive and clutch for:
~ Motor review and substitution bearing, brush, seals or thermos witch
~ Equipment of motor ventilation review
~ Replace encoder or resolver
~ Mechanism and seals review of adaptors of every types
~ Rewind three-phase motors and brushless motors
~ Stator's Treatment in the oven
~ Rebuilding bearing location
~ Valve stem seals, gaskets and engine kits, engine mounts, pulleys, chassis and brake hoses substitution
~ Painting rotors and winding
~ Collector Smicks
~ Dynamo tachometer review
~ Reactivation Terminal Boxes and Connecting bases
~ Circular connector of signal and power substitution
~ Rotors balance
~ Brakes regulation
~ Clutch reparation and rewind
~ Exterior repaint
We process every type of Lenze's motor.
Siemens's motors we repair are:
~ Low-tension motors
~ Motion control motors
~ Direct-current motors
At our repair centre ours technicians verify and could repair electric motors of every brands, thanks to professional knowledge and experience of the technical staff.
Among services offers by our motor reparation centre, you find furthermore a big choice of accessories:
~ Bearings
~ Brushes
~ Thermos witches
~ Equipment of motor ventilation
~ Encoder
~ Resolver
~ Mechanism
~ seals of adaptors of every types
~ Corteco engines
~ Dynamo tachometer
~ Terminal Boxes and Connecting bases
~ Brakes and clutch
SERVOMOTORS AND GEARMOTORS
We carry out repairs and offer the preventive overhaul service on all types of engines, we manage direct current, alternating current and permanent magnet devices. We check the operation of the gearbox assembled on the same motor and supply the spare parts necessary for their operation such as circular connectors and connection cables to the drive.
Disposal Drives
In case the product should be irreparable or the repair is not convenient, the customer may decide to leave the damaged material at our laboratory. Eltex takes care of the subdivision of the various materials for disposal, no additional costs are charged.
Repair Process
When the material reaches our laboratory and the actual urgency for the production stop has been ascertained, the piece immediately enters in the repair process. The following are all the operations performed:
Telematic storage of the motor by serial number.

Disassembly and cleaning failure occurs.

Preliminary quote of targeted repair.

Reassembly and functional testing on set bench.

External painting and possible phasing.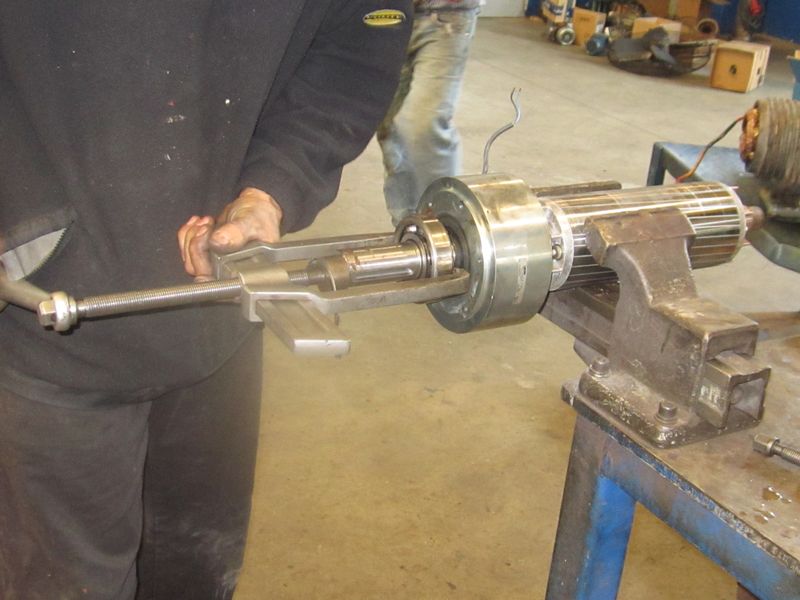 Eltex s.r.l. deals with the repair of inverters, drives, motors and electronic boards for industrial automation..
OUR SERVICES
The failure of an equipment can cause severe production stops that can significantly affect the production process of a company. In order to prevent or remedy these problems, Eltex can offer various services that are not included in pure repair.
Drives wash
There are electrical panels especially on very dated machinery, where the components inside are exposed to dirt. Dirt is one of the main factors that cause short circuits or overheating. So it is essential to keep clean electronics, by regularly intervening the equipment.
Revision service
Some electronic components assembled on printed circuits are subject to wear. When they reach the end of their life, in addition to not operating optimally, they can cause short circuits and therefore go to damage related components. Replacing them extends the life of the equipment.
Repair Service
We know what you are looking for, the quality and speed of our work are essential. Many repairs can be carried out in the same day. We know how to work quickly to solve problems and shorten production stops. Our spare parts warehouse is always stocked for this.
Supply of products
In the most serious cases of failure, especially when explosions or burns occur inside the equipment, they can make the repair not convenient. In these cases, Eltex proposes a new or refurbished replacement part.
Rent and Trade-in
Repair is a very difficult operation that requires specific skills and documentation. The technical times of the workings are always contained but if you can not wait, we can offer the rental service or the exchange of your failed equipment.
Pick ups and Deliveries
Eltex takes care of all-round repair. Can not deliver the piece due to a lack of personnel or do you not have an agreement with any forwarder? Our transporters come to your factory to pick up and return the piece in a day.
The parts used during the repair are supplied directly by the manufacturer of the equipment, otherwise the best performance ones are used. These factors allow Eltex to grant 12 months warranty on replaced components on all repairs carried out by our team. The repaired products retain all the factory functionalities are therefore almost as new.
INFORM US THE FAILURE
Do you need help with electrical maintenance? Fill out this form to get in touch.